Directions to the Planetarium & Observatory
SB Museum of Natural History (2559 Puesta del Sol Rd.)

T
his is an off campus location. You should allow for 20 minutes of travel time.
From the 101 Freeway: (see map shown below)
Exit at Mission Street and turn toward the mountains (follow the signs to the Old Mission).

Go on Mission Street about 0.8 mi. to the dead end at a stop sign (9 blocks).

Turn left and go 2 blocks to the next stop sign.

You are now sitting in front of the Old Mission.

Turn right for about 2 blocks.

WATCH for the "Y" in the road. Go LEFT.

Proceed about 1 block.

Look for the one way street on the left. YOU CANNOT ENTER - WRONG WAY.

Turn left at the first opportunity after the one way street.

Go to the stop sign and turn left.

Go about 3 car lengths and turn right into the Museum's parking lot.
At the Museum: To the Planetarium (for planetarium shows)

For those enrolled in the ERTH-102 Astronomy Lab Class, this is where we first meet.
Go through the main gate (if locked, go through the main office)

Proceed straight - toward Mission Creek

Stay on the red sidewalk - it bends to the right.

Make a sharp left in front of Farrand Hall.

Enter the Astronomy Center the planetarium is on the right inside the glass doors.
At the Museum: To the Observatory (outside where there are telescopes)

For those attending a Star Party, telescope viewing, or solar observation, this is where we will meet.
Stay in the parking lot.

Walk parallel to the whale skeleton in the direction of the tail.

Proceed to the first paved roadway to the left.

The Observatory is about 1/2 a block on the right - look for the domed building.

-----------------------------------------------------------------------------------
HOW TO GET TO THE MUSEUM
(As posted on the museum's web site!)
---
Santa Barbara Museum of Natural History
2559 Puesta del Sol
Santa Barbara, California 93105 USA
From the North: Take U.S. Hwy 101 south to the Mission Street exit. Turn left (towards the hills) at the offramp stop light.

From the South: Take U.S. Hwy 101 north to the Mission Street exit. Turn right (towards the hills) at the offramp stop light.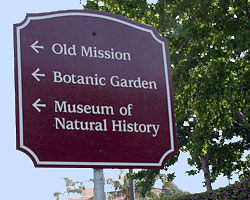 Proceed on Mission to Santa Barbara Street. Turn left on Santa Barbara Street, proceed two blocks to the first stop sign at Los Olivos.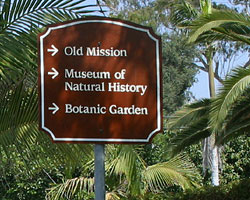 Turn right on Los Olivos and continue past The Old Mission which will be on your left.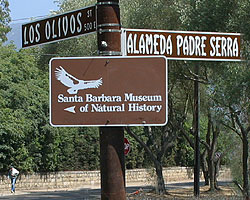 Stay to the left on Los Olivos at the "Y" beyond The Old Mission. You will cross a stone bridge . . . you are nearly here!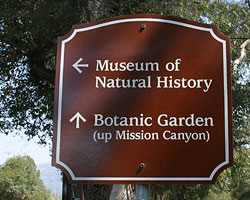 Turn left on Las Encinas and then left again on Puesta del Sol. Proceed to the first parking lot driveway and turn right. Parking is free.